What is an Escape Room?
Read more about Escape Rooms ↓
Teamwork
All our Escape Rooms is developed with focus on teamwork. Therefore you will need to cooperate if you want to win the "game".
Exitement
In our Escape Rooms you will experience an excitement that will make you focus 100% on the task.
Get closer
A visit to Locked will surely be a cohesive experience that will bring you closer together.
The concept is simple; You and your group are locked inside a room! It is now your job to work together to find clues and solve puzzles in order to escape the room. Each and every puzzle you solve will allow you to unlock a drawer, closet or similar in the room, and here you will find something to help you further in the game. The experience will be filled with excitement, surprises and collaboration.
At Locked, our guests experience is alpha omega. That's why we make an effort to give our guests the best possible experience – every time! The result is seen in our reviews on TripAdvisor:
More about Escape Rooms:
Live Escape Rooms is a relatively new concept that originates from video games. The first Escape Room video game was released in 2004, and three years later, the concept was reformed and redesigned as a live version, where groups in a physical room could try the concepts of the concept. Live Escape Rooms spread rapidly in Asia, and in 2011-2013 the concept became widespread to major cities in Europe and the United States. Today, Live Escape Rooms are found in almost the whole world.
Escape Rooms is a team-based game where the goal is to solve puzzles and mysteries, in order to together to break out of the space you are trapped in.
The concept is ideal as group activities, both for families and friends. The concept reinterprets team building, and offers families or groups a whole new way to interact with each other.
Below is a brief overview of some of the items that Escape Rooms can contain. However, please note that each Escape Room is uniquely designed.
Escape Room Herning differs, for example. from the competitors as we have Escape Rooms, which consists of several rooms – therefore we might call it "Escape Appartment" instead.
Team-based – Collaboration is the focal point of the whole concept. The groups typically consist of 2 to 8 people who are going to investigate the space for cues that can help them achieve the lock of the room.
A clear goal – Often the goal is to escape the room. However, it may also be possible to solve a murder or something third.
A background story – Escape Rooms is based on a story such as "Flygt from prison".
Atmosphere – The Simple Escape Room will be decorated and decorated to suit the background story. Eg. the room can be arranged as a prison cell.
Puzzles – The puzzles / tasks in the room can be, for example. involve 1) find hidden object around the room 2) solve mathematical tasks 3) find hidden passwords in books. Common to these tasks is that they will be connected so that they together will provide solutions to how groups can get out of space.
Time-limited – Typically, the group will only have 60 minutes to solve all puzzles so that they can escape the room and thus complete the game.
Typical audiences:
Dr. Scott Nicholson has collected information from Escape Rooms all over the world, and from this report, Escape Room distributes the players as follows: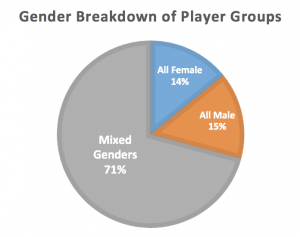 Dr. Scott Nicholson's report states that the Escape Room is broadly spaced, as many different types of groups represented among the visitors. Furthermore, it is stated that Escape Rooms appease approximately equal to both men and women.
prices:
Prices of Escape Rooms generally vary widely depending on geographical location.
Converted to Danish kroner, Dr. Scott Nicholson calculated the average price at 140 kr. person. However, the prices range widely, as Escape Rooms can cost up to approx. 30 kr. Pr. person in Asia.
Compare prices with the average income per inhabitants of the given continents, prices are more evenly distributed:
This is carried forward to the Danish average income (approximately DKK 320,000) based on a price per Person of 0.06% of average income gives the following: Approx. 192 kr. Pr. person.
At Escape Room Herning we strive to give all our guests the best possible experience. Therefore, we will evaluate the experience of each group and, on the basis of constantly trying to optimize the puzzles / challenge as well as the layout of each room.
We are looking forward to giving you an experience filled with excitement, surprises and cooperation.