Escape Room in Aalborg C
Escape Rooms right in the centre of Aalborg
LOCKED Escape Room Aalborg is located right in the centre of Aalborg in very authentic premises. We focus on the whole experience and with us the experience already starts when you enter the front door.
We guarantee a fun and different experience that is guaranteed to strengthen your bond. 
Escape Room
5-6 persons = 175 kr. / person
4 persons = 200 kr. / person
3 persons = 225 kr. / person
2 persons = 250 kr. / person
+6 persons = 2 Escape Rooms
ALL PRICES ARE PER. PER PERSON. PR. ROOM
Escape Room
5-6 persons = 199 kr. / person
4 persons = 245 kr. / person
3 persons = 275 kr. / person
2 persons = 300 kr. / person
+6 persons = 2 Escape Rooms
ALL PRICES ARE PER. PER PERSON. PR. ROOM
Wednesday: 15.00 - 21.00 (Low)
Thursday: 13.30 - 21.00 (Mixed)
Friday: 13.30 - 21.00 (Mixed)
Saturday: 10.30 - 22.00 (Peak)
Sunday: 12.00 - 19.00 (Low)
Our prices start from 175 kr/person. - Prices vary depending on whether you wish to visit us at the most popular times, or whether you choose to visit us at one of the less popular times.
See the current prices in the booking system below.
Read more about our Themes below:
"You have volunteered to be test subjects at the hospital as you have unfortunately been infected with the dreaded zombie virus. Scientists have long been working to find an antidote, but without success - at least until now... because the vaccine that has been tested on you seems to be working! Meanwhile, society has collapsed and the hospital is now overrun with zombies.
It's now up to you and your group to escape."
"You are secret agents on a critical mission to stop the private security firm, Alpha Security, from selling state secrets around the world. Agent Helena Kane has been undercover at the security firm and has laid the plan for you to break through their security systems and surveillance. She has got you a window in an hour. Time is running out!"
"A kidnapper is holding you and your team captive. You're chained in a basement room and all hope seems to be lost. It soon becomes clear to you that you are part of a sick game... A game where you must work together to regain your freedom."
NOTE: We do not recommend people with pacemakers or epilepsy to try this Escape Room.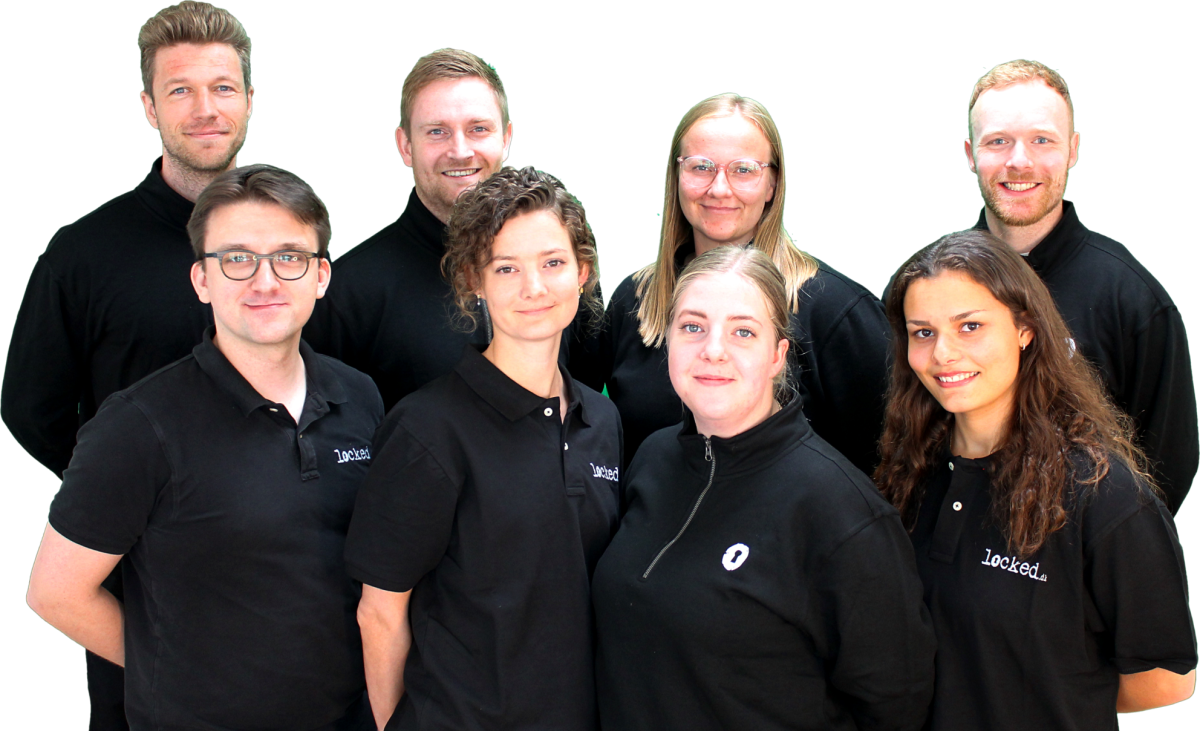 Frequently asked questions
Can children participate?
Yes, children can participate with adults. However, the atmosphere in our Escape Rooms can be a little sombre and there may be theatrical blood (depending on the theme). We don't have a direct minimum age for children, but we recommend that children are at least 10 years old.
However, without adult participants in the team, children must be at least 15 years old.
Can we have a maximum of 6 people?
Yes and no - you can have a maximum of 6 people in an Escape Room, so if you have, say, 7 people, you just need to split into two teams.
What language is it in?
The game is in English but with English subtitles on the video elements that appear.
ABOUT LOCKED ESCAPE ROOM AALBORG:
At LOCKED in Aalborg, we offer exciting and challenging escape room experiences where you and your team must work together to solve tasks and puzzles within 60 minutes. We have four escape rooms divided into three themes: The Undead, Kidnapped and Undercover. Each room is carefully designed to give our guests an amazing experience. Escape rooms are a popular activity in Aalborg with several different providers. Here at LOCKED, we have invested in both the perfect location and the right rooms. The result is a unique atmosphere that contributes to giving our guests an unforgettable experience.
WHAT IS AN ESCAPE ROOM?
Escape rooms are a fun and challenging activity where you and your team must work together to solve puzzles and riddles to either escape or solve a specific mission within 60 minutes.
Solving the challenges and tasks in our escape rooms requires both the ability to think creatively and logically, as well as the ability to work under pressure and handle unexpected situations. Our escape rooms offer an experience where you can test your limits and challenge your teamwork and problem-solving skills. It's an activity suitable for all kinds of parties, whether you want to spend time with friends and family or you want to improve collaboration and communication in your workplace.
WHAT DOES LOCKED IN AALBORG OFFER?
At LOCKED in Aalborg, we offer three unique themes that have been carefully put together to give our guests an exciting and challenging experience. In "The Undead" you must fight for survival in a zombie apocalypse, in "Kidnapped" you must try to escape your kidnapper, and in "Undercover" you must infiltrate and steal back important documents. Our escape rooms are carefully designed to provide our guests with different challenges and entertainment. We are constantly working to improve our experiences, but are proud to be the best rated Escape Room in Aalborg on Google Reviews.
WHY CHOOSE LOCKED ESCAPE ROOM AALBORG?
LOCKED is by far the most accomplished escape room provider in Aalborg. Our premises are a former bank and the building itself was built in 1890. The historic and well-kept premises provide a unique atmosphere, which already in the lobby sets the framework for a special experience. The premises total approx. 300 m2, and we currently have four escape rooms with three different themes.
OTHER ACTIVITIES IN AALBORG:
If you are looking for other fun activities in Aalborg, you can visit Aalborg Zoo(https://aalborgzoo.dk/), Aalborg Historical Museum(https://aalborghistoriskemuseum.dk/) or take a walk in Aalborg's beautiful waterfront(https://aalborghavn.dk/). Aalborg also has many green areas where you can take a relaxing walk or picnic. Whatever your interests and preferences, there are plenty of exciting activities to experience in Aalborg and we are proud to be rated as one of Aalborg's very best activities.