 Escape Rooms in Herning
- 5 escape rooms in total with 4 different themes
In Herning we have a total of 5 Escape Rooms with 4 different themes: The Undead, Crime Scene, Prison Break & Jigsaw. You can read more about our Escape Room themes at the bottom of the page.
LOCKED moved in 2021 and today has premises of over 700 m2, which means that LOCKED in Herning can also offer teambuilding events for larger groups.
Escape Room price
5-6 people = 175 kr. / person
4 people = 200 kr. / person
3 persons = 225 kr. / person
2 persons = 250 kr. / person
+6 people = 2 Escape Rooms
ALL PRICES ARE PER PERSON. PERS. PER. PER ROOM
Escape Room price
5-6 people = 199 kr. / person
4 people = 245 kr. / person
3 persons = 275 kr. / person
2 persons = 300 kr. / person
+6 people = 2 Escape Rooms
ALL PRICES ARE PER PERSON. PERS. PER. PER ROOM
Monday: By appointment
Tuesday: 15.00 - 21.00 (Low)
Wednesday: 15.00 - 21.00 (Low)
Thursday: 15.00 - 21.00 (Mixed)
Friday: 13.30 - 21.00 (Mixed)
Saturday: 10.30 - 22.00 (Peak)
Sunday: 10.30 - 19.00 (Low)
Our prices start from 175 kr/person. - Prices vary depending on whether you want to visit us at the most popular times or if you choose to visit us at one of the less popular times.
See the current prices in the booking system below.
Read more about our Themes below: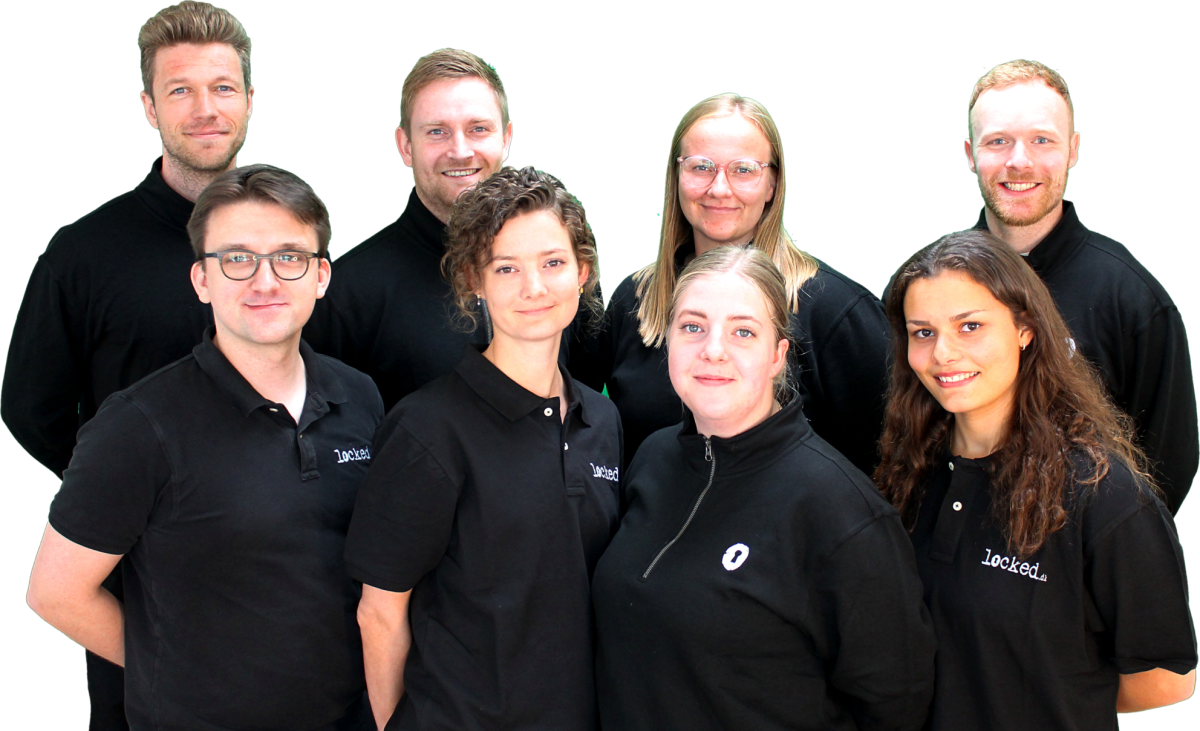 Frequently asked questions
Can children participate?
Yes, children can participate with adults. However, the atmosphere in our Escape Rooms can be a bit dark and there may be theatrical blood (depending on the theme). We don't have a minimum age for children, but we recommend that children are at least 10 years old when accompanied by adults.
However, without adult participants on the team, children must be at least 15 years old.
Can we have a maximum of 6 people?
Yes and no - you can have a maximum of 6 people in an Escape Room, so if you are 7 people, for example, just split into two teams.
What language is it in?
The game is in English but with Danish subtitles on the video elements that appear.
Find answers to more questions on our FAQ page:
About LOCKED Escape Room Herning:
Welcome to LOCKED in Herning, where we offer exciting and challenging escape room experiences. Our mission is to give our guests an unforgettable experience, which is why we have carefully designed our four unique themes: Jigsaw, The Undead, Crime Scene and Prison Break. Our escape rooms are ideal for an entertaining day out with friends and family, or as an effective team building activity in the workplace.
What is an escape room?
Escape rooms have become a very popular activity for families, friends and colleagues alike. In an escape room, your team is challenged to solve tasks and puzzles under time pressure. Together, a team of 2-6 people must work to solve the tasks and escape the room or complete the mission within a 60-minute time frame. Success requires good communication and teamwork, and our escape rooms are designed to provide a unique and exciting experience. We have different themes that have been carefully selected to give you a varied and challenging experience every time you visit us.
What do we offer in Herning?
Our escape rooms in Herning are designed to challenge our guests in different ways. In Jigsaw you must try to escape a crazed serial killer, in The Undead you must survive a zombie apocalypse, in Crime Scene you must solve a crime and in Prison Break you must escape from prison. Each theme is carefully designed to give you a unique experience. We also have a lounge area where you can relax while waiting for your team or enjoy a drink after your escape room experience.
Why choose LOCKED escape room in Herning?
At LOCKED escape room Herning, we place great emphasis on our guests' experience. Our escape rooms are carefully designed with attention to detail, and our team of instructors make sure you get the best experience. Our reception and lounge area is decorated in an atmosphere that aims to contribute to the overall experience.
Other activities in Herning:
If you are looking for other fun activities in Herning, you can visit our neighbors Terminalen, which has one of Denmark's largest skate rinks(/Terminalen/) or our next-door neighbor Padeltennis(/padellouge/). Alternatively, you can explore Herning's many shops and restaurants.